Structural characterization and anti-tumor activity in vitro of a water-soluble polysaccharide from dark brick tea
---
---
Structural characterization and anti-tumor activity in vitro of a water-soluble polysaccharide from dark brick tea
Meng Liu, Zan Gong, Hui Liu,Jiahui Wang, De Wang, Yanjing Yang',Shian Zhong"
College of Chemisry and Chemical Engineering Cenral South University,Changsha 410083,China
ABSTRACT
Keywards:
Recently,more and more attention has been paid to the structure and application of tea polysaccharides.Herein,Dark tea polysaccharide a water-soluble homogeneous polysaccharide (DTP-1) from dark brick tea was purified,characterized,and
Structure
investigated its anti-tumor activity in vitro.The DTP-1 with a molecular weight of 11,805 Da is mainly compasedAnti-tumor activityof glucose,galactose and arabinose.It has a backbone,which is composed of -4)-a-D-Glep-(1-+, -5)-a-L-Araf-(1→, →6)-β-D-Galp-(1→,→2}-a-L-Araf-(1→,→3)-β-D-Galp-(1→,with→4,6}-A-D-Galp-(1→as branching point and-1}-B-D-Glcp as terminal, In addition, DTP-1 could significantly affect the viability of A549 and SMMC7721cells with an inhibition rate of 31.71% and 33.38%(600 μg/mL,24 h),respectively,by inducing apoptosis and inhibiting cell migration.Moreover,DTP-1 had no effect on corresponding normal cells.Therefore,DTP-1showed great potential to become a functional food and an anti-tumor drug.
1.Introduction
optimizing the extraction process and biological activities such as anti-oxidant, fat reduction, and blood sugar reduction. The antioxidant ca-Tea is made from the leaves and buds of the tea tree (Camelliapacity of 6 kinds of black lea polysaccharides was comprehensivelysinensis) and is one of the most popular beverages in the world [1].Since
evaluated by in vitro ABTS free radical scavenging, DPPH free radical tea contains various biologically active compounds, including tea scavenging,iron ion reduction and reducing ability tests (9]. In vitro polyphenols (TPP), theanine, and tea polysaccharides (TPS),it has a
fermentation experiments have shown that Fuzhuan tea polysaccharides long history in diet and medicine.Decades ago,most researchers con-will not be hydrolyzed by saliva and gastric juice, and can significantly ducted extensive and in-depth studies on the physical and chemical improve the abundance of intestinal microorganisms, and increase the
properties and biologicalactivities of low-molecular-weight compo-content of short-chain fatty acids [10].The research on the chemical nents in tea, such as catechins and theanine (2,3]. However, due to its structure and anti-tumor effect of DTPS is still in the preliminary large molecular weight and complex structure, TPS has not received exploration stage.A report showed that Fuzhuan tea polysaccharide is widespread attention as a biologically active compound with develop-an acidic heteropolysaccharide, and the main components are Man,Rha,
ment potential until recent years.Studies have shown that TPS has GalA,Glc,Gal and Ara[11].Nevertheless, it did not characterize the biological activities such as antioxidant,antibacterial,anti-tumor,molecular structure of the Fuzhuan tea polysaccharide. The MTT inhibiting diabetes and enhancing immunity [4,5].In recent years,method was used to preliminarily evaluate the anti-cancer activity of tea TPS has received widespread attention as a substitute or auxiliary for seed polysaccharide on human leukemia K562 cells, indicating that tea traditional anti-cancer drugs due to its extensive therapeutic properties seed polysaccharide has significant inhibitory activity on the growth of and relatively low toxicity to normal cells [6].K562 cells, and the inhibition rate reaches(38.44 ±2.22) at a mass
Dark tea is post-fermented tea, including Pu'er tea,Liupao tea,Fuz-concentration of 50 g/mL[12].But the specific role of DTPS in anti-huan tea,Qingzhuan tea,Kangzhuan tea[7].The unique fermentation cancer still needs to be explored.process of dark tea involves a variety of microbial communities. As a According to the limited reports on the homogeneous poly-result,various active ingredients of dark tea, including TPS,will change saccharides in dark tea,this study was dedicated to extracting and dynamically, forming unique sensory characteristics [8].There is little purifying a homogeneous polysaccharide from dark brick tea, thor-research on dark tea polysaccharides(DTPS),and most focus noughly characterizing its molecular structure,and exploring its potential·Corresponding author at:College of Chemistryand Chemical Engineering,Central South University,Changsha,Hunan 410083,China.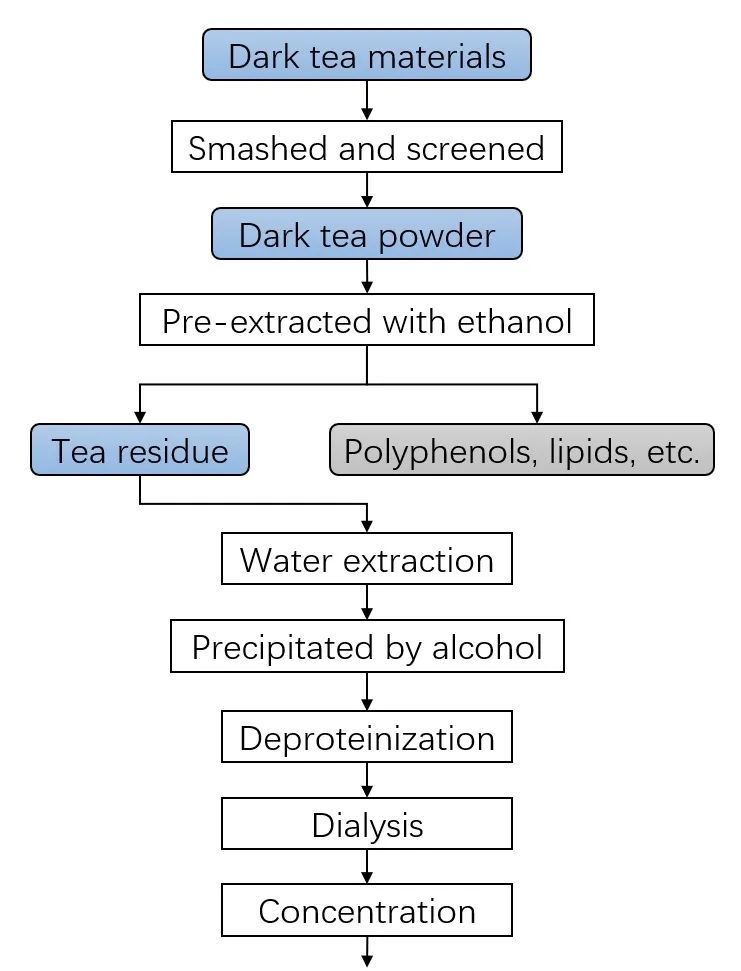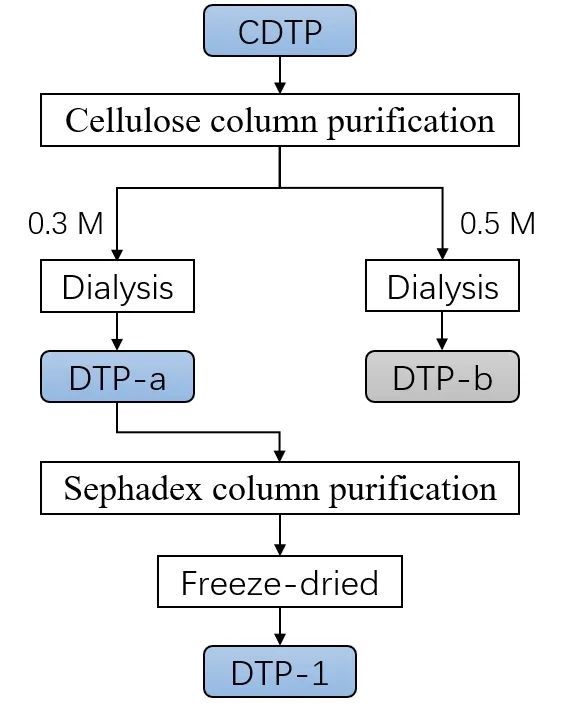 (Separation and purification flow chart of dark tea polysaccharide TDP-1)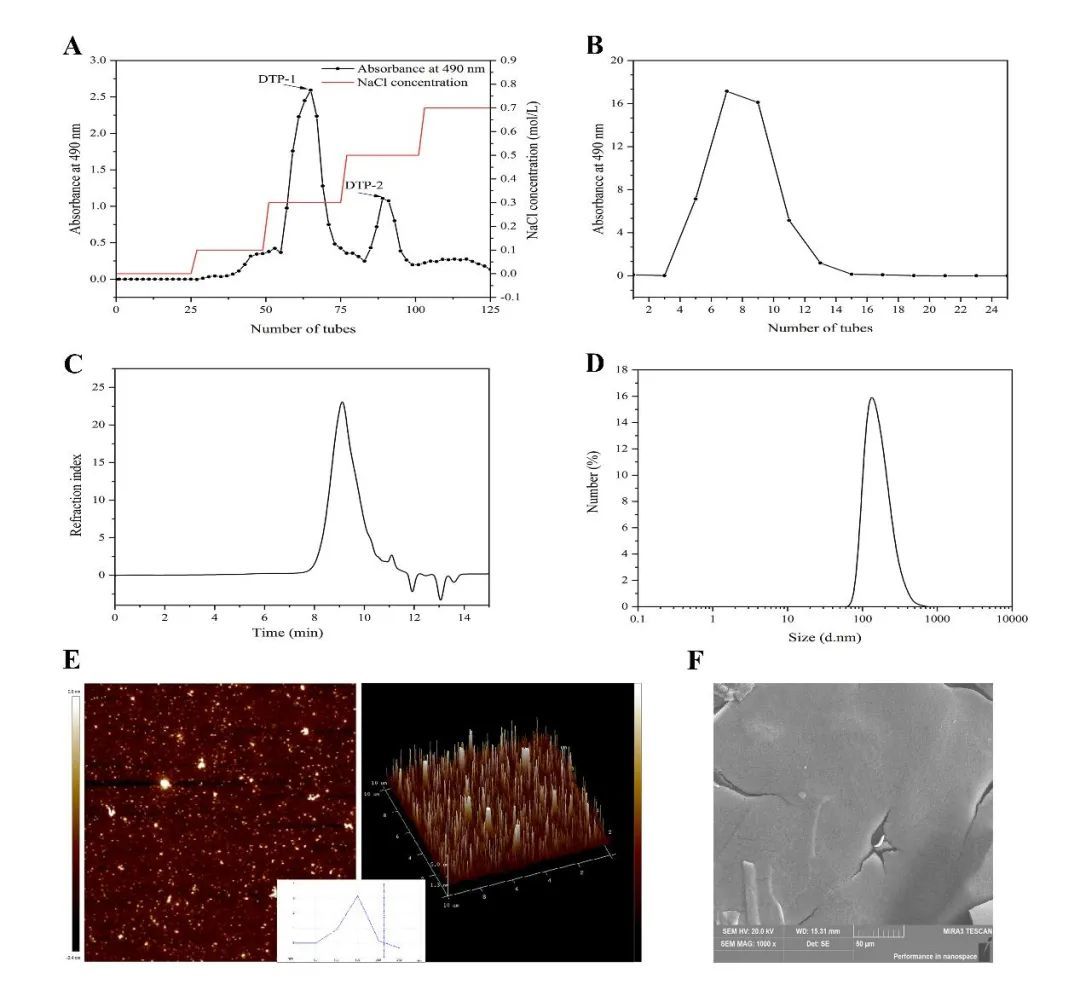 (Elution curve of dark tea on DEAE-52 cellulose column (A);Elution curve of dark tea on Sephadex-G100 Dextran gel column (B);HPSEC spectra of dark tea polysaccharide (TDP-1) (C);Particle size distribution image of TDP-1 (D);Atomic force microscope image of TDP-1 (E);Sem image of TDP-1 (1000 ×) (F).)
(Structure diagram of dark tea polysaccharide (TDP-1) repeat unit)
(Flow cytometry showed that tdP-1 could significantly induce the apoptosis of cancer cells, accelerate the apoptosis process of cancer cells, and thus reduce the survival rate of cancer cells without damaging normal cells)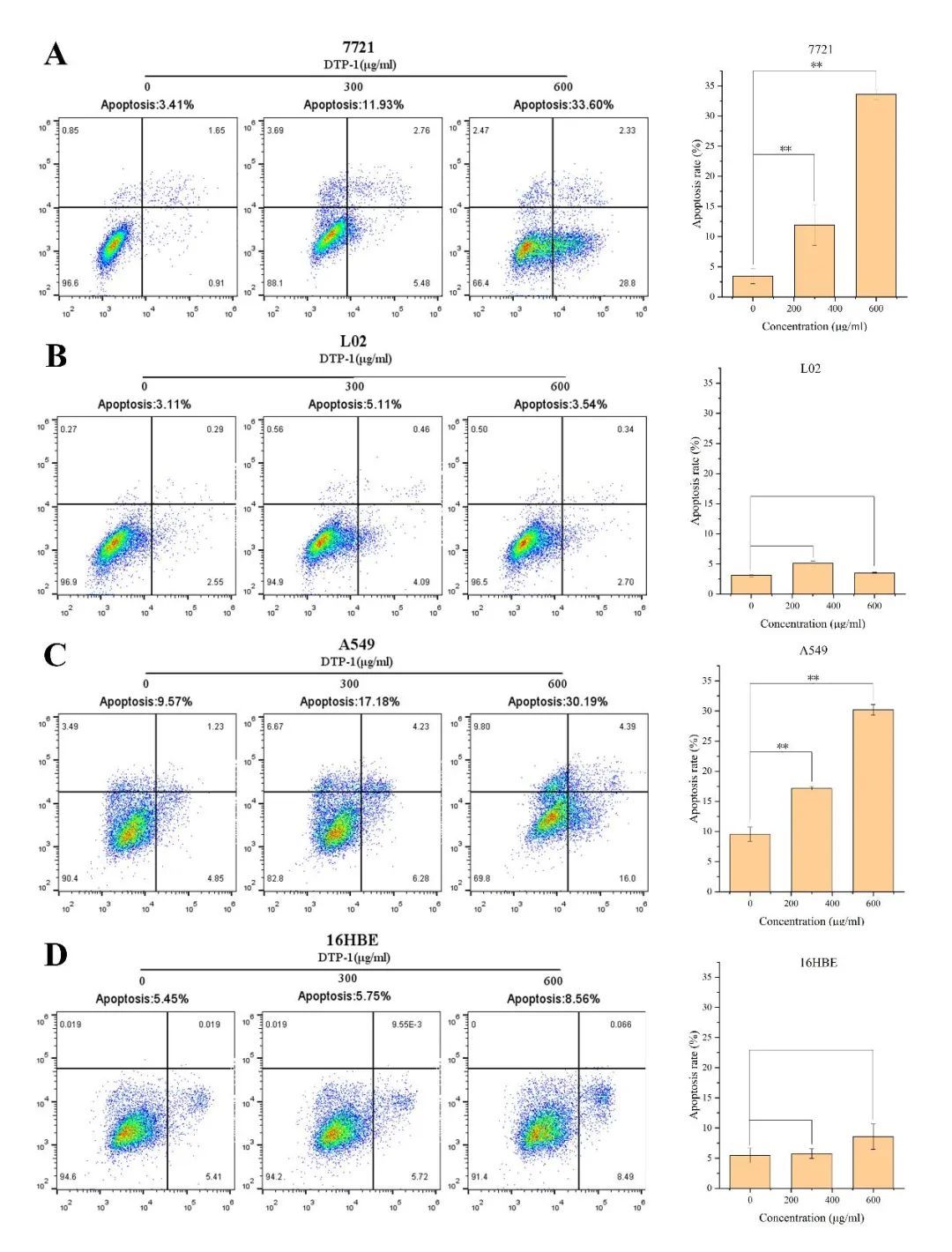 (Flow cytometry images of cancer cells and normal cells treated with different concentrations of TDP- 1:SMMC7721 cells (A);L02 cells (B);A549 cells (C);16HBE cells (D).* P < 0.05;* * P < 0.01.)
As a special drink, prebiotic dark tea contains a large number of bioactive compounds such as polysaccharides, amino acids, polyphenols and their transformed secondary metabolites, which have significant effects on regulating intestinal flora, anti-tumor, regulating glucose and lipid metabolism and anti-oxidation.In this study, polysaccharides were extracted and purified from prebiotic dark tea to characterize their molecular structure and explore their potential anti-tumor activity.This study provides a theoretical basis for exploring the structure-activity relationship of anti-tumor effects of prebiotics black tea polysaccharides, and lays a solid theoretical foundation for further development of prebiotics black tea polysaccharides as functional food or anti-tumor drugs, which is of great significance in expanding the application field of active ingredients of dark tea and enhancing the market value of dark tea.